HOME>PRODUCTS>Finishing section

We design the best equipment layout based on customer requirements for pipe type and applications.

Hydrostatic Tester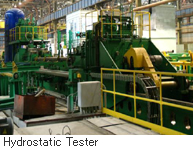 Our proprietary hydrostatic testers efficiently accommodate API production. We also have partnership with other specialized test equipment manufacturers in order to support special needs.
>Ultra sonic Defect Detectors
>Measuring and weighing equipment
Finishing Equipment
We design the finishing section for customer requirements.
>Pipe straightener
>End facing and chamfering equipment
>Varnish coating equipment
>Pipe stacking device
>Bundling machine