HOME>TECHNOLOGY>FEM Simulation

FEM analysis technology opened the infinite possibility of cold roll forming.
Until now forming skills has been left for hands of experienced operators. Formation of ERW pipe involves complex 3-dimensional plastic/elastic deformations. There is a limit understanding such profound processes of deformation behaviors, stress and strain solely relying on skills of experienced workers. It is also impossible to evaluate a mill design unless actually conducting forming process in reality. The optimization of process is extremely difficult for this reason, requiring many design corrections and modifications after building the mill.
Process optimization on computer
NAKATA's proprietary 3D plastic/elastic forming analysis system made us possible to scientifically and theoretically understand complex behaviors of steel strip during formation. We built our own roll forming simulation system to accurately predict strip deformation under roll stress. With these tools we made it possible to optimize forming process in computer.
Simulation system on computer monitor

Indispensable technology for developing ideal forming method
NAKATA developed an ideal forming method using involute curvature rolls (FF rolls) by applying FEM analysis technology. The revolutionary method did not only eliminate roll changes but also minimized influences of diameter, material thickness and steel type while determining the best edge butt shape. The FFX mill can manufacture high grade pipes such as X80 and N80.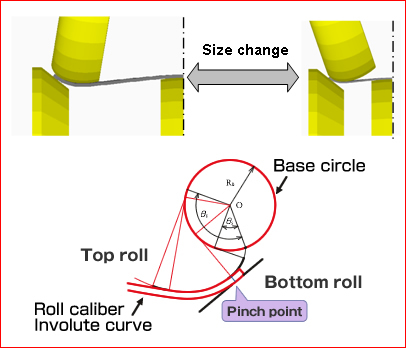 Further development of FEM analysis technology
1) Design assist for machine structures
FEM forming analysis translates forming loads into high accuracy data. Optimized mechanical structure is designed by applying FEM structural analysis based on the data. In addition NAKATA's know-how is incorporated in creating high rigidity cross beam structure for the mills.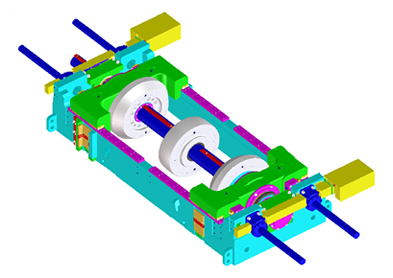 In our new design, cross beams in mainframe support forming loads which were traditionally supported by the mill shaft. The new cross beam design achieved a high mill rigidity.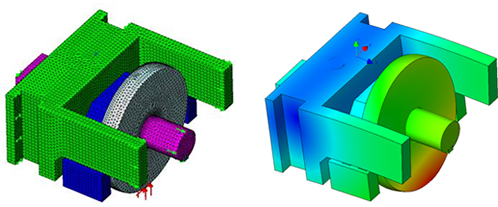 2) Design assistance for square pipe forming machines
Normally mill forms round pipe continuously into square pipe, requiring more stands and roll groups. FEM analysis technology helps sharing roll (with involute curvature) and reducing roll changes. In addition, making all-roll-drive increases thrust power and stabilizes the line.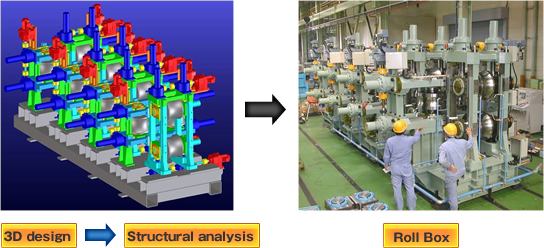 Applying for conventional type mill diagnosis
NAKATA's FEM analysis technology has a high success rate improving product quality and yield of conventional type type mills.